19/09/2016 • Webmecanik events 3 minutes to read
Automation Update for September 2016After a hopefully pleasant summer holiday, we're happy to inform you that the upcoming update contains many new functions! Such as a new email editor and more flexible landing pages, contact management through lead stages, synchronisation with Salesforce becoming bidirectional, the monitoring of mentions and hashtags, and Twitter message posting, and a ...
01/02/2016 • 2 minutes to read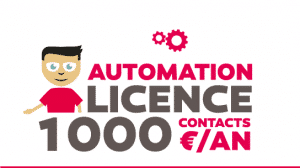 We are proud to announce the launch of the most accessible Marketing Automation licence on the market! To start right away. Would you like to learn more about Marketing Automation? Are you a young company or a start-up? Is your database too small to start with a standard licence for 10,000 contacts? ...